Main Page
From Shpyrko Group Wiki

Welcome to the Shpyrko Group Wiki. Group - Feel free to create new pages or edit existing pages as you see fit. Use Sandbox to practice wikipedia syntax.
---
Group Photo
Principal Investigator
Oleg Shpyrko
Associate Professor, Department of Physics


University of California San Diego
Ph.D. 2004, Physics, Harvard University


Ph.D. Physics, Harvard University, 2004 (CV)


Office: Mayer Hall 3210 (Where is it?), 9500 Gilman Dr., MC-0319, UC San Diego, La Jolla, CA 92093-0319
Phone (Google Voice, preferred): 858-952-1248
Phone (Office): 858-534-3066
The Webpage for Spring 2010 quarter of PHYS_100C
Direct measurement of antiferromagnetic domain fluctuations
O. G. Shpyrko, E. D. Isaacs, J. M. Logan, Yejun Feng, G. Aeppli, R. Jaramillo, H. C. Kim, T. F. Rosenbaum, P. Zschack, M. Sprung, S. Narayanan and A. R. Sandy
Nature 447, 68 (2007)</font>
Our group's research efforts have been generously funded by DOE, NSF, DARPA, NSF CAREER, AFOSR-MURI, AFOSR, Hellman Foundation, Argonne LDRD, UCOP MRPI award, as well as internal UCSD funding sources.
UCSD Physics Department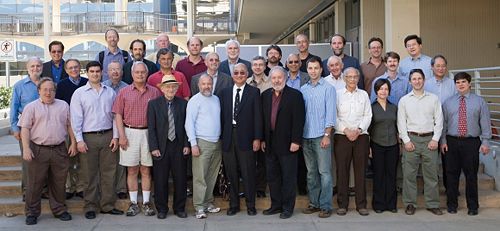 Wiki Help